How Do I Join?
We suggest you start by contacting an estate planning professional. If you are looking for a DocuBank Provider in your area, click here or Complete the enrollment form.
Send us the enrollment form (see link above) along with a copy of your living will, health care power of attorney, other advance directive, and/or organ donation information.
Membership Options
One Year
$55
Five Years
$175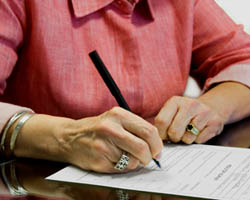 There are no additional charges for retrieval or replacement of core documents during your membership. There is an additional fee due at renewal if you choose to store a list of medications with the documents that your DocuBank wallet card provides to hospitals in an emergency.
If you would like to learn more, please call us, toll free:
1-866-DOCUBANK (1-866-362-8226)