How Will You Know if Your Child is Hurt?
HIPAA Laws May Mean You Won't.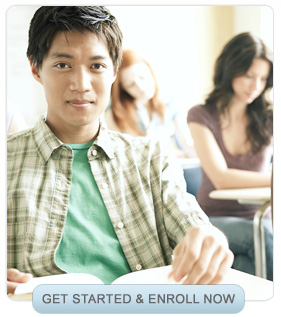 Docu
Bank
In-Case-of-Emergency (I.C.E.) HIPAA Release Registry
Providing hospitals access to the documents that students need.
I.C.E. Provides Immediate Access to:
Student's Signed HIPAA Release
Parent's Names and Contact Info
Existing Allergies & Medical Conditions
Health Insurance Information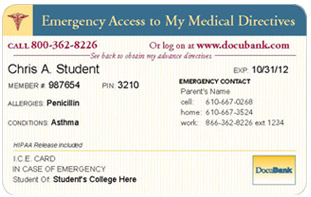 Protecting Students & Alerting Parents.
Most college students want their parents help in a medical emergency. This is why parents names and phone numbers appear right on the I.C.E. card. So that family can be contacted right away.
And whenever a hospital uses the student's I.C.E. card to obtain the student's HIPAA release, the parent receives an immediate alert from DocuBank. This alert gives the parent the hospital's phone number so they can call directly and find out what's happening with their child.
Getting Answers, Not the Silent Treatment.
The I.C.E. card tells medical personnel how to obtain the student's HIPAA release (or other healthcare directives) on file with DocuBank. With this release, the hospital is free to share information about the student's condition when parents call - without fear of violating the federal healthcare privacy law (HIPAA).
In addition, with the I.C.E. card, the hospital sees a student's allergies and important medical conditions right on the card - so that medical professionals can provide the most appropriate treatment immediately.
DocuBank is a registered trademark of Advance Choice, Inc.