How Do I Join?
We suggest you start by contacting an estate planning professional. If you are looking for a DocuBank Provider in your area, click here or complete the enrollment form.
Send us the enrollment form (see link above) along with:
A copy of your advance directives (living will, HCPOA)
Your list of medications
Organ donation information
Membership Options

One Year

$55

Five Years

$175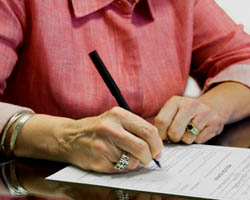 There are no additional charges for retrieval or replacement of core documents during your membership. There are two levels of membership BASIC, and COMPLETE. Every new membership is COMPLETE. You will receive information about rates and membership level choices when you are near your renewal time, renewal rates are usually lower than the initial charge.
If you would like to learn more, please call us, toll free:
1-866-DOCUBANK (1-866-362-8226) Mon-Fri 9am - 5pm (eastern)